Doubling the HP and 600 ft-lbs of torque, it was bound to happen. 55 mph speed limit, 2 lane road, and stuck behind someone drifting between 45 to 48 mph, it was just too much to stand. This is what this baby is built for. Hit the performance shift mode on the trans, and waited for the opportunity. Finally had a good open spot and nailed it. Trans shifted from 4th to 2nd, the engine revved to 3200 and the coach jumped to life. Yes, we were going around this guy, even towing my Grand Cherokee. Engine wound out to 5200 rpm, coach hit a little over 80 mph, and we were around him, and pulling back in, life was good...or so I thought. A few miles later, I coming up on some cross roads, I let off the throttle to stop and that is when I began to hear a funny noise. The farther I drove, the louder the noise got, but only off throttle. No noise accelerating or cruising. Only was about 30 miles, from home, so I babied it the rest of the way, thinking it was probably a U-joint. I've had U-joints go bad before, but this seemed different. U-joints usually vibrate off throttle, but this only made noise, no real vibration. Fortunately, I made it home OK. Time to get out and see what we can learn. Lifted one wheel off the ground, crawled underneath and started looking. U-joints all looked good, but I could hear a noise as I rocked the tire back and forth. Also seemed like a lot of slop in the differential. Time to drop the cover. Pulled the cover and Oh boy, do we have a problem. There were chunks missing from the ring gear. Not only that, but the bearing race which is supposed to be a pressed fit on the carrier, slid on and off easily.
So that is where it all started. Knowing that a full throttle downshift was going to break my differential, I set out on a quest to find a solution. The internet took me in a couple of different directions. The first was cryogenics. Much of what is posted on the internet about cryo is black magic. Racers do not want their competition to know what they are doing. Wild claims by those who sell the service, and a lot of insanity. Finally came across a real lab report of testing that seemed to demonstrate the truth about cryo treatments. What I found was that it does not increase strength, or hardness but that is where the black magic comes in. What the tests did show is that it dramatically improved the uniformity of the hardness. Apparently when metal is hardened, there are still microscopic areas on the surface, that are not hardened. This results in tear out. Once the tear out begins, the pits become larger and larger, till eventually the surface becomes rough, which causes wear at an ever increasing rate. Since cryo treatment makes the hardness uniform, these soft areas are not present, so the tear out does not begin. This dramatically decreases the wear. The second observation is that cryogenics increases rigidity, without making it more brittle. In other words, the tensile strength stays roughly the same, but the elongation is significantly less. OK, so hold those thoughts, we'll get back to them later.
The second place the internet took my was to a guy out west who had done some interesting modifications to differentials. Had a educational conversation with Jantz Engineering. One of the things he does is build up differentials for guys who compete in off road racing. He has found that when pulling apart Dana differentials, there will be 2 wear lines on the bearing races, one for on throttle, and the for off. The conclusion is that there must a significant flexing as torque is applied to the diff. If anyone knows anything about rebuilding a Dana, they know that the housing must be spread to get the carrier out. The device that does this is rated for 10,000 lbs. If the case can be spread with only 10,000 lbs, then it is no surprise that it flexes under torque. As a result, he created a way to reinforce the case, as well as stabilizing the bearing caps with girdles. Our conclusion was that if we could prevent the case from flexing, that would maintain proper gear mesh, so the teeth would not be as prone to breaking. Secondly, the reduced flex should also prevent the race from walking on the carrier, so that will not wear as well. All good.
So what did we end up with. Now understanding the problem, it became obvious to me that both the reinforced case, bearing girdles, and cryogenics all are a step in the right direction. Cryogenics helping by making the case and carrier more rigid, as well as reduced bearing wear, and teeth wear. Here is the bearing girdles: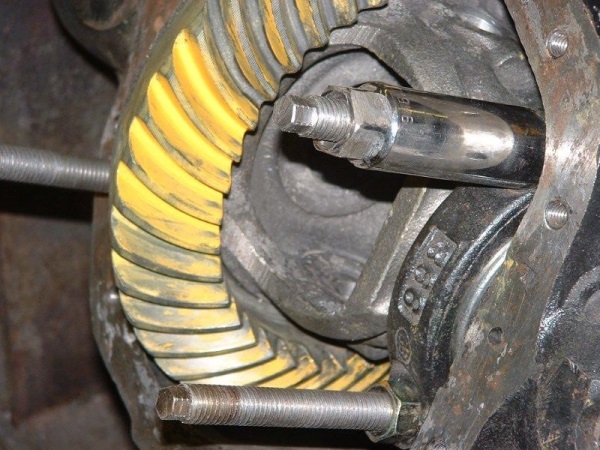 And the Revcon differential with the Jantz cover